Travel Bench Dog
You will find a good dog crate in our range. We recommend the Maelson folding dog top of top quality.
-26% Sale

89,99 66,99

-18% Sale

109,99 89,99

Customer Service: 0599-858878
Free Shipping NL & BE from € 49
30 days withdrawal period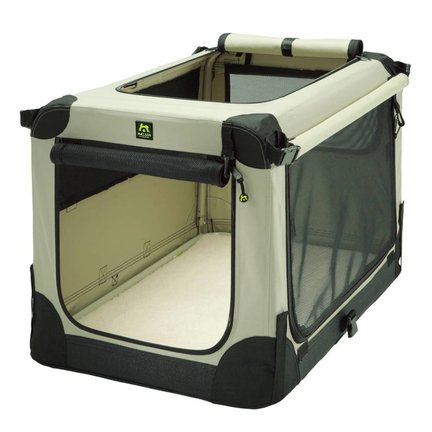 Travelbench dog
A travel bench dog is available in many shapes and sizes. With the right dog travel bench you can safely transport the dog. It is important to buy the bench in the right size so that the dog can stand and turn.
We sell travel benches from the following brands:
Doxtasy;

TrendPet;

Petego;

Maelson;

Hunter;

Innopet.
We offer the travel bench for the dog in various designs. Think of lightweight benches, fabric variants and foldable benches.
Various types of travel benches for the dog
The Maelson brand offers foldable lightweight benches of excellent quality. These travel benches are easy to set up and can simply be folded back after use. This makes it the ideal travel bench to transport the dog in the car.
Petego also offers travel benches that are ideal for transporting the dog in the car. This variant is especially suitable for taking with you in the car. All you have to do is click the bench onto the seats in the back seat. In addition, it is also possible to make the bench smaller and larger.
TrendPet offers top quality travel benches for the dog of German. They are lightweight and very strong. Moreover, the aluminum frame can be folded in and out quickly and easily.
Buy a dog travel bench at Petsonline
You can easily buy the travel bench for the dog online at Petsonline. We ship orders from 49.00 free and postpay is possible.
Do you want to be sure that you are transporting the dog safely? Then look at a dog car seat or a car seat belt dog . With a car seat and seat belt you prevent the dog from walking through the entire car and the dog's safety is increased.
Increase the safety of your dog in the car? Buy a travel bench dog at Petsonline.