cooling products for dogs
Cooling products will cool your pet. all products for dogs on stock.
Customer Service: 0599-858878
Free Shipping NL & BE from € 49
30 days withdrawal period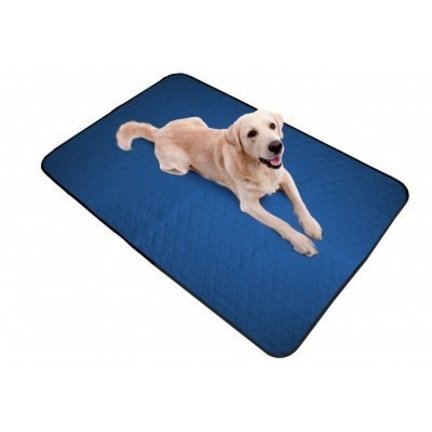 Cooling products for the dog to prevent overheating!
Are you looking for cooling products for human use ? Check out our website www.koelproduct.nl

Did you know that dogs can only regulate their body temperature by panting and sweating through the pads? Dogs do have no sweat glands, making them very susceptible to overheating or a heat stroke. This can cause very serious damage to the organs or in extreme cases of overheating lead to their deaths.
It is therefore a good idea to help your dog to cool off, especially at higher temperatures. Of course you can go swim with your dog in a lake or the sea. Also, you can cool your dog by throwing water over it. However, this will not always be possible. There are several cool products available that you can use to prevent overheating of your dog.
Do not leave your dog in the car
A car acts like a greenhouse, leaving the dog in sunny or warm weather can be extremely dangerous. Parking the car in the shade and leave the windows open will not lead to lower temperatures in the car. As the sun turns , a car parked in the shade can suddenly be in the full sun.
In full sunlight, the temperature in the car will reach within 10 minutes more than 50 degrees .... and your dog will be confined in a furnace. In no way it can cool down and it will soon go into shock. If you are not there on time, the dog dies a horrible death by the high temperature, as the blood thickens and can not circulate any more. The blood is then thickened by the solidification of the white blood cells by the high temperature. Your dog will lose consciousness. Because blood carries little oxygen, the dog will choke.
If the dog is still found alive, it may survive, but with a high risk of damage to the brains and kidneys.
Long walks in the sun
Walking the dog in the sun is not a good idea. If you are walking on a hot road (asphalt, concrete, but also stone) the dog's foot pads will form large blisters: these are moist in hot weather. This is very painful for the dog that will suffer a long time. It is much better is to walk the dog in the sun in grass, at a slow pace. If your dog is not used to long distances, leave him at home in a cool place.
Cycling with the dog
Is it warmer than 18 degrees? Then you must not let your dog run with the bike. Firstly, the dog's body temperature will soon be too high at risk of overheating. But the warm pavement forms a danger: the soles of the dog are moist in hot weather because they dissipate body heat. On such a hot pavement, large blisters will be formed which is very painful for your dog.
In summer, only in the early morning and maybe late night is a good time for cycling with your dog. The advice is to monitor the temperature of your dog closely, and to prevent possible overheating.
A cool swim?
Swimming can lead to the cooling of the dog, but not for every dog. Dogs with a thick, long coat face danger while swimming: the wet hair can fester and cause overheating.
Cooling products for your dog
It is recommended to cool your pet in the following situations:
at higher temperatures
if you travel with your pet, for example in the car
in games and sports
in the warm outside air
What can you expect from the products?
reduce heat stress
reducing elevated body temperature
lighting by constricted airways due to heat stress
Petsonline offers several brands that are considered to be the best on the market.
Aqua Coolkeeper
The cooling products by Aqua Coolkeeper are specially recommended by veterinarians around the world to cool off your dog (or cat) in warm weather. The special cooling mats, cooling collars and bandana collars for dogs are also useful for other pets such as cats, rabbits, ferrets, etc. Aqua Coolkeeper is specially designed to keep the body temperature of your pet under control and operates with a special gel. This makes it impossible to swim your dog, then you must first remove the cooling product.
How do the cool products work ?
You put the product in cold water and after a few minutes it is suitable for use. The Aqua Coolkeeper products will cool a long time. After use, you can simply put the product back into cold water for further use. Cleaning can be done by a quick hand wash with mild soap in cold or warm water.
EQDog
The cooling vest EQDog works without a gel. Through a sophisticated and high-tech fabric, the dog is cooled immediately when the vest is moistened. By evaporation of the water , the cooling jacket goes straight to work. You do not immerse the complete vest, you just need to moisten it. As long as the cooling jacket is kept moist, your dog stays cool. Your dog can swim without any problem with this cooling vest.