Pet Stroller
Pet strollers are very useful to take the dog with you where the dog does not need to walk.
Customer Service: 0599-858878
Free Shipping NL & BE from € 49
30 days withdrawal period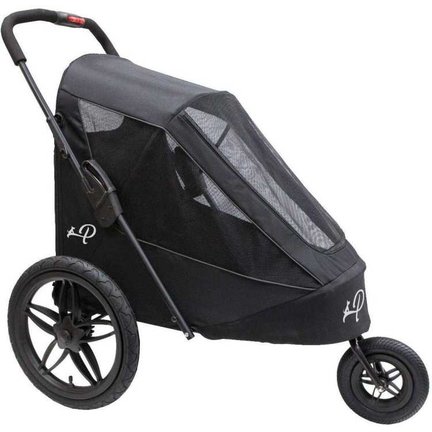 In recent years, the pet strollers have become best sellers. You see them everywhere: in all kinds of models, small or large, with a single dog or with several dogs in such a pet stroller. Often there is a reaction, both positive and negative.

What is the use of such a stroller for the dog?
Of course it is normal for a dog to walk and run. But there are many situations where that is not so obvious.
There are dogs that are very anxious outside. This can have various reasons, for example due to a trauma. It can be treatd but not every dog comes over it. For both the owner and for the dog, walking the dog or making a long hike is quite a difficult task. During a walk, the dog may also need a safe place to relax. A pet stroller is then a godsend. The dog can be taken outside in a safe environment and can withdraw from time to time.
There are also many dogs that run in shows. Bringing a loose dog is not always useful because it is always very busy at a show with other dogs, participants and visitors. Also there is a chance that somebody steps on dog's paws in that rush. Also if you bring a few small dogs, a stroller is a good idea. The dog or dogs are safe, nothing can happen and they can lie down because a stroller is much larger than a carrying bag.
ust like a human being, a dog can suffer from joints due to osteoarthritis, for example. This causes the dog to have difficulty walking, which makes longer walks sometimes impossible. Every dog owner really wants to go outside with the dog. The dog also absolutely needs it. A small dog can still be carried in a pet carrier, but those are usually only suitable for really small dogs. Larger dogs simply do not fit inside. Also in this situation a stroller is not a luxury item but just a necessity to take the dog outside so that they can get a breath of fresh air and a walk. They can also take a good rest when the rest of the pack continues. In a situation where an older dog is together with younger dogs, a stroller is a good solution to still be able to go outside with all dogs.
There are also situations where a dog may not walk far because of other health problems. Without a stroller, the possibilities to take the dog outside are very limited to the green strip close to home. For outdoor air and contact with other dogs, a stroller is of course a godsend.
Finally, there are dog owners who just like to take their dog or dogs to places where a loose dog is not allowed.
What should you pay attention to when buying a buggy?
There are a large number of different models available. They differ in size, so be careful that your dog fits in. In a pet stroller, the dog must be able to sit well and preferably can lie down, so take that into account. The sizes are always mentioned in the text.
Different models can also be used (sometimes with an extra product set) as a bicycle trailer so that you can attach the stroller behind the bike. This is very useful if you like to cycle and the dog can not run (also not recommended in warm weather).
All pet strollers are collapsible so they do not take up too much space if you do not use the buggy.