Dog harness and dog harness
Are you looking for a dog harness or dog harness for your four-legged friend? Then you have come to the right place at Petsonline. We have different types of colors and sizes, so there is always something suitable. Order a dog harness or dog harness here!
Customer Service: 0599-858878
Free Shipping NL & BE from € 49
30 days withdrawal period

-42% Sale

23,99 13,99

-25% Sale

19,99 14,99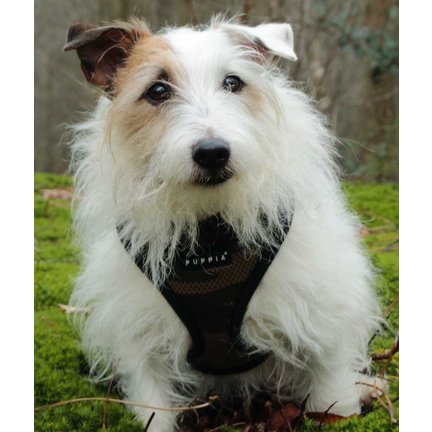 A dog harness for your four-legged friend
Would you like to purchase a dog harness for your favorite friend? Which can! Nowadays, these products  are often chosen as an alternative to the traditional collar. A normal collar puts pressure on your pet's neck, while a harness distributes the pressure around the chest. That's why we see more and more customers looking for these alternatives.
We have a wide range of these harnesses in our range, so that there is something suitable for every dog. We sell various high-quality brands, which are distinguished by a good price-quality ratio. In addition to a dog harness, we have more dog supplies, such as a dog bed, where your dog can rest after the walk.
A harness for your dog from different brands
In our range you will find dog harnesses from many different brands. The Doxtasy brand is one of our bestsellers and has variants in all kinds of fabrics and colors. These harnesses are of high quality and also available for smaller dogs. However, the sizes of this brand may differ slightly, so always pay close attention to the size chart of a dog harness.
In addition, the Swiss brand Curli is also very popular. They produce beautiful dog harnesses of exceptional quality. The brand is not yet that well known in the Netherlands, but definitely worth it.
Would you prefer a matching leash for your dog harness? Then the brand Puppia also has very nice variants for your dog. This brand has many different colors, so there is always something that suits your taste. Popular brands at a glance:
Popular brands at a glance:
Doxtasy;
Curli;
Puppia;
EQdog;
DOG Copenhagen;
DOOG;
Disney;
Dean & Tyler;
Hunter;
Kurgo;
Max & Molly;
Rogz.
Which model of dog harness does my dog need?
Each dog harness has a different model. Not every model may be suitable for every dog. A well-known model is the step in model, where you have to lift your dog's paw yourself to put on the harness.
In addition, other models can often be put on over your dog's head. It is important to pay attention to the size of the dog harness. Each brand has different sizes. So it is essential to consult the size charts and measure your dog before ordering.
For dogs that are still growing, it is not wise to buy a harness that cannot be adjusted at the chest. To make it a little easier for you, you can simply filter the products by your dog's chest size. This way you can easily find the perfect dog harness for your four-legged friend.
You can buy a dog harness or dog harness at Petsonline
If you are looking for a comfortable alternative to the collar, you can opt for a dog harness. At Petsonline we have a diverse range of high-quality brands and different sizes. Guaranteed that the perfect dog harness is there for you.
Do you have any questions or would you like help with your selection? Then you can easily contact us by calling us or sending us an email. Are you unsure about your purchased product? No problem at all. You can simply exchange or return your order within 30 days. Are you ordering above €49? Then shipping is completely free! What's still holding you back? Order your new dog harness or dog harness today!