Dog Flap
a large collection dog flaps you will find at petsonline.nl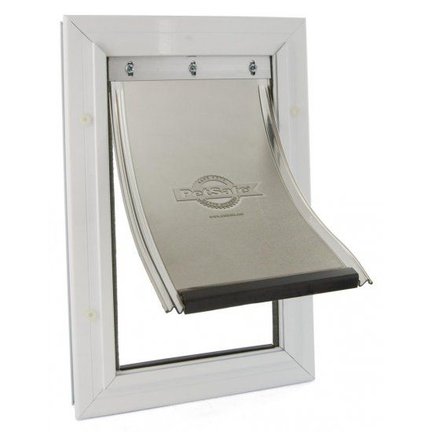 Dog flap
A dog is generally an active pet who likes to go out - and wants to come back inside independently. Do you walk regularly to the door to open or close it for your dog ? Then think about a dog flap. A dog flap has many benefits for you and for your dog. You always have the control to give your dog or dog access to the outside – and to the inside. The modern dog flaps all have multiple ways to regulate access to your home. In simple dog flaps, there is at least the possibility to turn the flap open or close it, and often you can also lock the hatch completely.

There are in these times of high tec developments also very modern dog flaps. If you are suffering from strange dog entering your home, you can choose a dog flap that only opens when the dog wears a special collar. These dog flaps can be programmed so that only dog with these collars can come inside or go outside.

An extra step is the dog flap which reads the microchip your dog or dog. You can program many dog you want to give access to the house. All other animals that are not programmed into the dog flap, can not come into your house. The timer can be set so your dog or dog are only allowed to go outside in certain periods. That use of this type of dog flap is very convenient for example when the dog is not allowed to go outside at night.

Using such a dog flap, strange dog or other pets are not able to use the dog flap.

Take care when choosing the dog flap as the dimensions vary by model. Different models dog flaps have the possibility for an extension (called a tunnel extension), allowing the dog flap can to be placed in thicker walls or thicker doors.

Petsonline offers dog flaps of the PetSafe brand - these were mainly known under the Staywell brand, recently acquired by PetSafe. An American brand that delivers quality products for dogs and dog. The dog flaps are a good example.