Large dog collar
Beautiful large and wide leather dog collars, tight and tough or decorated with Swarovski among others, for the large breeds. Lengths up to 101 cm for Pets Online.
Customer Service: 0599-858878
Free Shipping NL & BE from € 49
30 days withdrawal period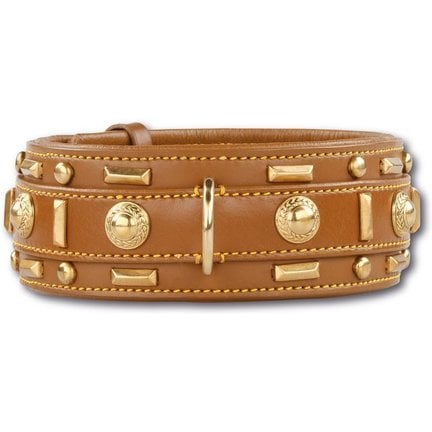 Large dog collars
Are you the proud owner of a beautiful big dog such as Dog, Mastiff, Saint Bernard and the like? Especially for these large breeds, a large dog collar is sometimes hard to find. Petsonline therefore has many kinds of extra large dog collars (which are extra wide) available. You will find our collars are all available in extra large sizes. You can refine the results by using the "filter" button. You can refine the collars on the neck size, width, material and color of the collar.
To make the correct choice and size, we recommend you always measure the neck size of your dog. You can use a tape, preferably a flexible one. Please ensure that you do not to measure the neck size too tight so that the collar can be worn comfortably by your dog. A play of two fingers is a good starting point.
A wide variety of large collars is available. You have a wide choice of materials, color and finish.
Does your dog have a different or extreme size so you have little choice? Some of our manufacturers offer the possibility to make a collar to size. You can always contact us for this for a suitable offer. Do you have seen a dog collar elsewhere that you'd like to order from us? We will be happy to help you!
Do you have a large dog that pulls on the leash? A dog collar might not be the right choice for your dog. A dog harness can be a much better solution. Many dogs pull much less when wearing a harness, especially if the D ring is placed at the rear harness. Our tip is to definitely look at the harnesses in our collection, especially the leather ones are often particularly well suited for a large dog. For very large breeds, Dean & Tyler manufactures handmade leather dog harnesses, which can also be custom made.