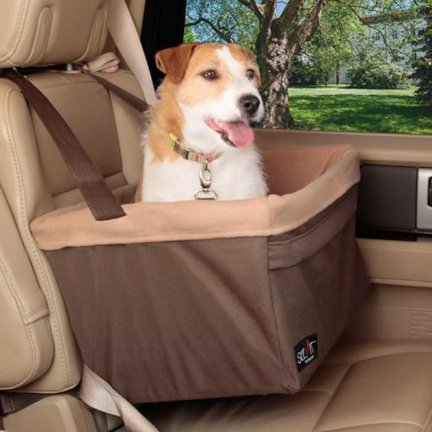 Dog car seat
A dog car seat is a practical solution if you want to transport your dog. A car seat for the dog is practical, comfortable and, above all, safe. A car seat for dogs is suitable for very small to small dogs.
We sell the car seat for the dog of the following brands:
Solvit;

Doxtasy;

Kurgo;

Petego.
The car seat is very easy to install. The seat is attached to the headrests of the chair. Our seats are suitable for dogs up to 13 to 14 kilograms. Because the floor of the seats is raised, the dog can look outside from the dog's car seat.
Various types of dog car seats
The Solvit car seat for the dog is attached to the headrest with the seat. The seat of the chair is padded and lined with fleece. The lining can be easily removed and washed in this way.
A car seat for the dog from Doxtasy is suitable for dogs up to 6 kilograms. The dog seat for the car can be folded, making it an easy to transport, flat package.
A Kurgo car seat is lightweight and suitable for dogs up to 13 kilograms. These variants can be attached to both the front passenger seat and the rear seat seats. The lining of this chair is also covered with fleece and can be washed.
Buy a car seat for the dog at Petsonline
When you order the car seat at Petsonline, you usually receive it within 2 to 5 business days. In addition, we ship orders from 49.- free within the Netherlands and Belgium. Paying after delivery is possible!
For large dogs we recommend a car seat belt dog or a travel bench dog . A large breed of dog cannot be transported safely in a special car seat. For small dogs, we recommend a dog car seat in any case.