Dog Collars
Dog collars, individually selected to stand out. Sleek and luxurious designs, many exclusive models with Swarovski.
Customer Service: 0599-858878
Free Shipping NL & BE from € 49
30 days withdrawal period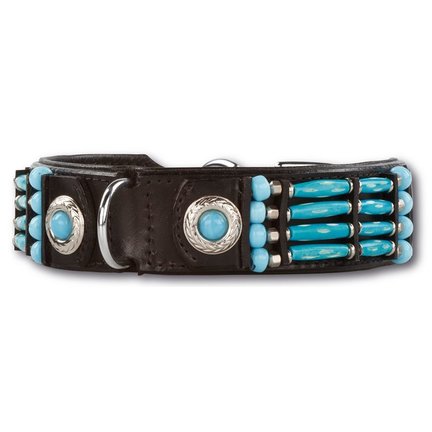 Dog collars
At Petsonline you are at the right place for a good dog collar. In the range you will find all beautiful collars, which are often available in different sizes and colors.
Petsonline searches worldwide for special dog collars for every taste.
A new collar for your dog is a very personal thing. For every taste and dog is there an appropriate collar. Are you looking for a beautiful, special or exclusive collar for your dog? At Petsonline you will find a wonderful assortment of dog collars with famous brands. Each of collars that are carefully selected for quality, design and price. There is plenty of choice of sizes and colors, even for the smallest and very large breeds there is a wide choice available. So you will find a wide range of dog collars, decorated with Swarovski elements, but also collars with many other ornaments and collars with very contemporary designs.
We also directly import exclusive design collars, which you can find under the exclusive collars! We also have a special collection of greyhound and whippet collars, including many handmade designer pieces.
The famous Martingale dog collars are not lacking of course. These collars have been previously developed for greyhounds, whippets and the like, because the standard collars can be pulled over the dogs head because of their narrow necks. The Martingale collars consist of a double loop, allowing the collar to close itself gently when pulled. These collars are also known as semi-correction collars.
For the dark days of the year are dog collars with LED lighting really indispensable. You keep first of all a much better view of your dog in the dark. In addition, the dog is more visible to other road users. There are several models, including collars that charge itself with solar energy. There are also models that run on batteries.
To facilitate your choice for a beautiful dog collar, we created several groups that allow you to quickly search. In each category, you can refine your results by clicking on the 'filters'. You can enter your personal preferences for a dog collar: neck size, color and material.
But before you make a choice for a new dog collar, it is important to measure your dog's neck properly the first time since the collar should be comfortable for your dog.
We will be happy to give you advice! You can always call us here at 0599-858878 or email to [email protected] for advice.