Exclusive dog collars
The exclusive designer dog collars collection. Handmade designs of top quality and unique pieces.
Customer Service: 0599-858878
Free Shipping NL & BE from € 49
30 days withdrawal period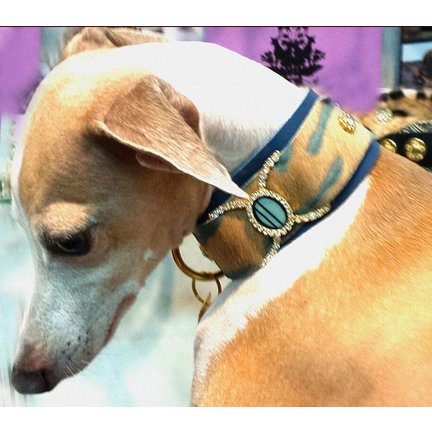 Exclusive dog collars
Here is the collection of exclusive dog collars by Petsonline.
Men has made for centuries very special and decorated dog collars. Are you also looking for a really amazingly beautiful and exclusive collar for your dog? There are several brands that we offer in our shop.
Barcelona Dogs
A very special manufacturer is Barcelona Dogs that indeed works from Spain. The owner and designer is inspired by many beautiful ornaments and historic designs. Not only are the designs very beautiful, but she also selects the leather for the dog collars personally. In the workshop, the leather is dyed so that each design collar is truly unique. All dog collars for customers are handmade per piece. She also makes a lot of greyhounds collars.
Dutchiz
A new supplier is this Dutch brand with very exclusive and handmade dog collars with original python leather. The leather is very carefully selected and all the collars are made by hand. The designs are classic, but also by the use of color really make them contemporary.
All designs for this exclusive designer collars are rightly called unique because they are made individually for each order. All exclusive dog collars are of top quality and the decorations are stitched by hand on the collar. Everyone has a different taste and the range offers many different styles, from classic to sleek and sturdy.
Due to our excellent contacts, we are in many cases able to fulfill special wishes. Are you looking for a unique design dog collar in a different size? Or in a different color?
Please feel free to contact us!
Almost all collars are available in many sizes. Because this collection is completely handmade and only can be made to order, there is never a physical stock available. The delivery time is stated for each product.