Barrier Rugs
A dry mat is a perfect solution for dirty or wet dog paws in the house!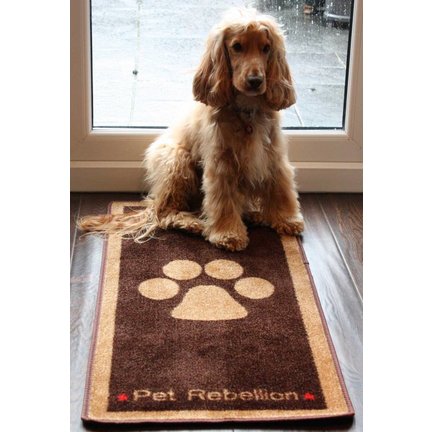 Barrier rugs
In a household with dogs, for use you and your dog enter your house in wet weather with dirty and wet shoes and dog paws. Do you recognize this? To protect your floors from dirt and to keep the floors dry, the use of a barrier rug is highly recommended. Laminate, for example, has little resistance against moisture and the use of these mats is a great way to protect your floor adequately.
A barrier rug is made of 100% nylon which allows the mat to absorb a lot of moisture. The barrier rug has a scraping function to remove walking dirt from shoes or dog's paws. The mats are provided with an anti-slip layer on the underside so that the mat does not move over the floor. You can use these mats both inside your house and outside at the front door.
Petsonline found an English manufacturer, Cap Rebellion, which focuses entirely on the development and production of barrier rugs for dogs and their owners. A small team is eager to make really innovative and fun products, all aimed at dog owners and their four legged friends. Pet Rebellion also makes of the same material manger mats that can be used under the water bowl and food bowl for your dog or cat. This will protect your floor from water and food.
The rugs are sturdy and of good quality. They are available in different sizes. Every dog owner will be charmed by the surprising choice of the fun prints. For everyone will be clear that a four-legged friend is at home and visitors will also be reminded to wipe equally dirty shoes.
All sizes can be washed at 30 degrees without problems, a wash before the first use is recommended for the best results.
Through direct contacts, Petsonline is able to offer you these products at a competitive price.