Swarovski dog collars
Beautiful dog collars with Swarovski crystal. In many different models, sizes and colors. Also for very small or large dogs.
Customer Service: 0599-858878
Free Shipping NL & BE from € 49
30 days withdrawal period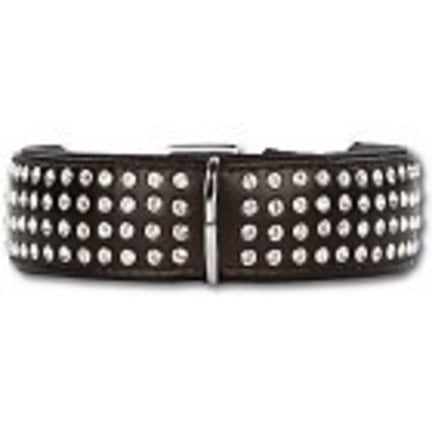 Swarovski Dog Collar
In 1895, Daniel Swarovski (born 24-10-1862), a son of a Czech glass processor, began with his newly-invented machine to grind crystal. By this machine, he could polish and grind more accurately and thus create the beautiful crystal sparkles. The special feature is also that a coating is added to the crystal. This creates the luxurious appearance and the crystal remains always beautiful. The company was founded in the same year. Today, the Swarovski company is located in Austria and the family is still represented on the board by a great-granddaughter of Daniel.
Anno 2014 Swarovski is known for the best crystal in the world with a lead content of about 32%. Unfortunately many imitation crystals are in circulation, but the specific composition of the original crystal is shown immediately in the brilliance and color palette of the crystal. Also, the facets of the original are perfectly attached to each other, which is often not the case in imitation crystals.
The Swarovski name is often associated with luxury goods. Various pop stars, including Michael Jackson, have worn clothes in which the crystals are processed. So also wore the British Queen Elizabeth II during her Diamond Jubilee a white outfit that was trimmed with Swarovski crystals.
Petsonline offers you a very nice assortment of Swarovski dog collars that are trimmed with this world famous crystals. Almost all dog collars are available in many different sizes, so also available for big dogs and little ones or puppies! You can choose different colors of leather and different color crystals.
Before you order such a wonderful dog collar, it is advisable to first measure the neck size of your dog. This prevents that the dog collar will be too big or too small. Take a tape measure, preferably a flexible one, and measure the neck. For extra comfort for your dog, allow two fingers spare.