Martingale collars
Correcting collars that prevents that the collar is pulled over the head of the dog Worldwide popular among dog trainers.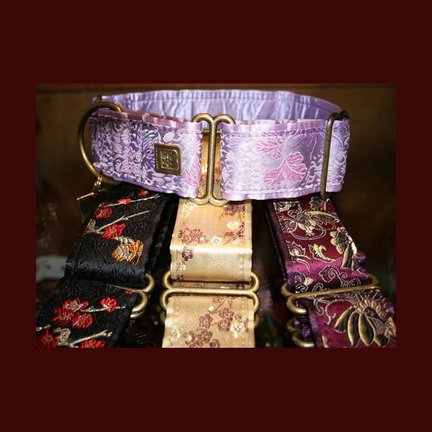 Martingale collars
The specialized Martingale collars are originally designed for greyhounds and whippets. These purebred dogs have a neck that is larger than their heads with the risk that the collar is drawn over the head of the dog. This is of course still the case, but now owners of other dog breeds discovered a great benefit to the Martingale collars!
The collars give more control over the dog without suffocating the dog (as a choke chain does) and are therefore considered to be a cross between a standard collar and slip collar. A Martingale consists of two loops. If a Martingale collar is pulled, the collar will close itself gently through the large loop. Therefore, this collar can not be pulled over the head, but your dog will not suffocate. Hence, this collar is also called semi-correcting and is a preferred type of collar by dog trainers worldwide. This type of dog collar is much milder than the rougher choke chains.
A Martingale collar consists of two loops so that the collar will always fit perfectly around your dog's neck. This construction makes this type of collar for your dog more comfortable than a traditional collar, which must always be worn very tight. The Martingale is looser and tightens only when being pulled.
Because a martingale can be worn less tight than a traditional dog collar, it is very comfortable for the dog to wear it. Once the collar is properly adjusted, the dog will escape from it.
Petsonline offers you a beautiful collection with these Martingale collars. We chose brocade material, which looks gorgeous on the dogs, in various colors and patterns. With a gentle hand wash the collars can be safely cleaned and are perfectly suited for everyday use.
Before ordering such a beautiful dog collar, we recommend that you just measure the neck size of your dog so that you avoid a disappointing experience.